Services & Facilities
Advanced Critical Care Complex (ICU, CCU, NICU, PICU)
Our Critical Care unit features multiple dedicated departments to treat all types of critical cases based on the condition severity and the specific needs of the patient.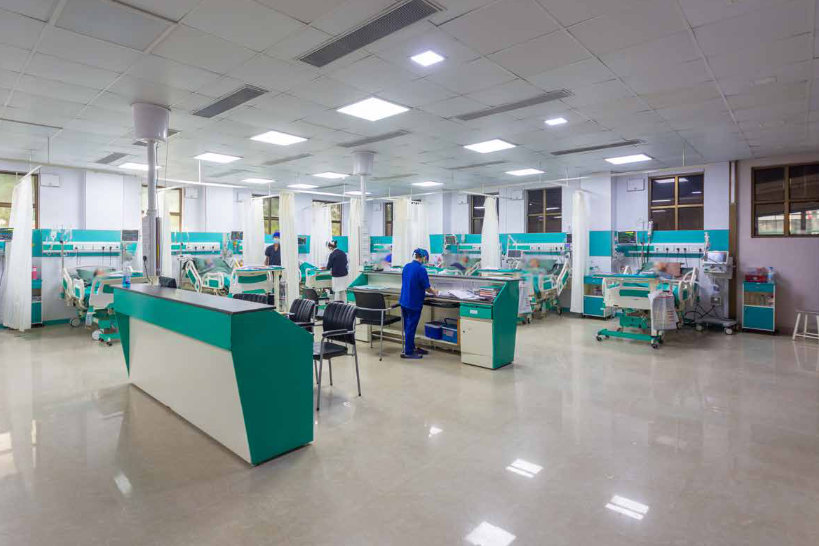 ICU
The Intensive Care Unit is one of the most crucial departments of our hospital – ready to accommodate a wide range of critical cases. Supercare Hospital's 12 bedded ICU is fully equipped with the latest monitoring and care equipment and facilities. We have an efficient admission process to ensure that the convenience of patients and carers is prioritized. Round-the-clock care by specialized and experienced medical professionals is one of the biggest hallmarks of our establishment.
HDU
A High Dependency Unit is similar to an Intensive Care Unit where special care and extra monitoring is provided to patients in a designated and specially equipped area. Patients at the HDU receive more care than in regular wards as their condition needs more intensive care. Cases that are not severe enough for an ICU but require significant attention are sent to our 5 bedded HDU.
NICU and PICU
Our neonatal intensive care unit (NICU) is one of the most crucial parts of our critical care department. Neonatal care is a highly specialized discipline and requires dedicated care. Newborn babies require attention to the minute detail and the equipment and facilities for a NICU is a list of many indispensable services. Supercare NICU is equipped to handle up to 10 cases at a time. Round-the-clock attention, specialized professionals and the foremost technology will ensure that your precious young ones are taken care of through these delicate moments. Similar to the NICU, our Pediatric Intensive Care Unit or PICU is dedicated and designed to provide exclusive and 24/7 care to children who require critical care.